1. On the main menu bar, click Lists, then Referring Physicians.
2.  You can enter a Ref Physician Code, or if left blank, the program will assign one.  This also applies to entering new Providers.  You may want to use a simple abbreviation for example JD, or REFJD if for example the referring physician is named "John Doe".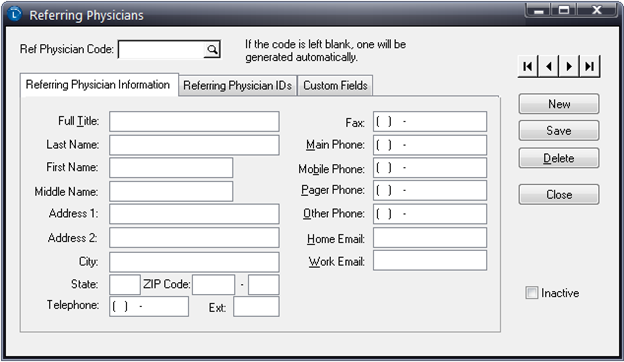 3. On the Information Tab, at minimum enter the Full Title (Full name and credentials), Last Name, and First Name.
4. Click on the Referring Physician IDs tab.
5. Click the New button at the bottom of the window to add an ID (the "New" button on the right-hand side of the screen is for adding another Referring Physician). At minimum add a National Provider ID.
6. Click OK, then Save when finished.