1.  On the main menu bar, click Lists, then Standard Lists, then Facilities.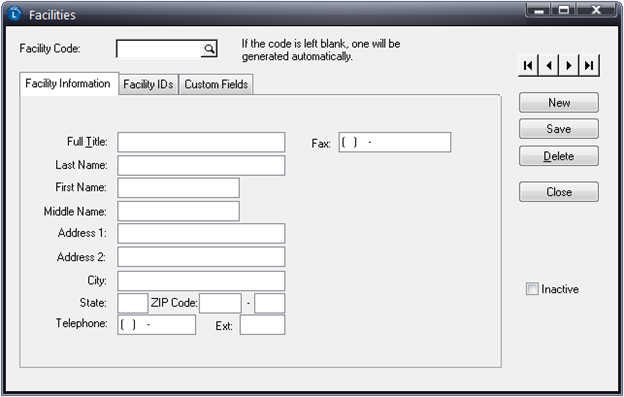 2.  Enter a Facility Code, or if left blank, the program will assign one.  Typically, an abbreviation of the facility's name is used for the code.  For example, for "Centertown Lab & Diagnostic" you could use CLD, CTLAB, CTLD, etc…
3. Enter the facility name in the Full TitleField, and enter the Address 1, City, State, and Zip Code (plus the Extended Zip Code).
4.  Also enter an NPI on the Facility IDs tab.  Click on the Facility IDs tab, then click New at the bottom of the window (the "New" button on the right-hand side of the window is for entering another new Facility).
5.  Select National Provider ID and enter the facility's NPI in the field to the right. Also place a check mark in the Send Facility on Claim box, and select the most appropriate ID Qualifier.
6. Click OK when finished, then Save on the previous screen.