1. Click the Lytec Icon located in the top left corner and then click New Practice.
2. The following screen will appear:

3. Enter the desired Practice/Database name in the Practice Name field.
4. Enter a password in the SYSTEM Password and Confirm Password fields.
This password is very important. The word SYSTEM is by default the only username
a new practice/database will start with, and is the master login for the dataset. Use this and the password you set to login. If lost there is a charge for recovering this password. Later in this guide we will look at creating additional logins.
5. Once a Practice Name and SYSTEM password have been entered, click OK.
6. The following screen will appear (database files are being created):

7. Once this completes the login window will appear. Again, with a new practice,

the only User Code available will be SYSTEM
and the Password is the one entered in Step 5 above. We will look at creating additional logins
in a later section of this guide.

ENTERING PRACTICE INFORMATION
1. To edit the practice information, which appears in Box 33 of the CMS-1500 form, click Lists, then Standard Lists, then Practice.

2. In the next window you will see 3 tabs.
The first tab, Practice Settings consists of three sections. The Practice section of this tab determines what prints in Box 33 of the CMS-1500 form. In the Claims section, select from Individual or Group, and Person or Non-Person depending on your practice's configuration. In the Reporting section, entering the Bank Accountnumber is optional, but if entered, can appear on a "Bank Deposit Sheet" if printed with the "Day Sheet" report option. Also, on this tab enter sales tax information if applicable. Last, choose the Practice Type and Practice Category that best describes your practice.

3. The second tab of the Practice Information window, Practice IDs, allows you to determine (in conjunction with the Provider ID's setup), what IDs will print in Boxes 33a and 33b, depending on what Provider, Facility, or Insurance Company is on a claim.
*See screenshot on next page: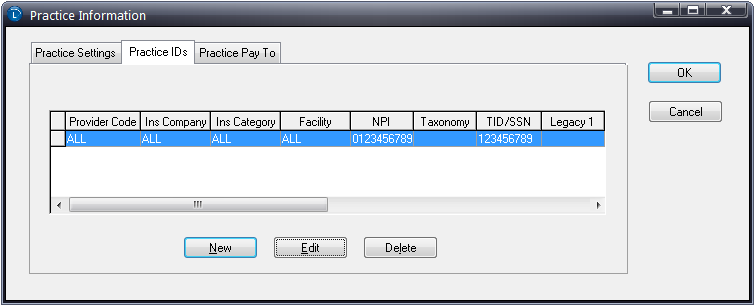 4. Make at least one entry, by clicking New, at which time the following screen will appear. Select National Provider ID, and enter your practice's Group/Practice NPI, or if solo-provider with no Group/Practice NPI, enter the Provider's Individual NPI. Also select Tax Identifier or Social Security Number, depending on how your practice and provider(s) are registered with insurances, and enter the corresponding value.
Note: You may make additional entries if certain insurances want IDs different from other insurances. In this case, choose Insurance Company or Insurance Category to tell the program to use these IDs in that case.

5. The third tab of the Practice Information window, Practice Pay To, can be used when your "Pay To" address is different from your "Billing" address. This can be used on electronic claims or paper claims (with modifications). It is not required to complete this tab unless needed.

6. Click OK when finished.