On the main menu bar, click Lists, then Diagnosis Codes.

2.  The Diagnosis Codes window will appear.  It is highly recommended that an actual diagnosis code be entered in the Diagnosis Code field, as opposed to an alpha-character description.  Codes can be entered ICD-9 or ICD-10, but it is recommended to use ICD-10 as the base code.  Also enter a Description.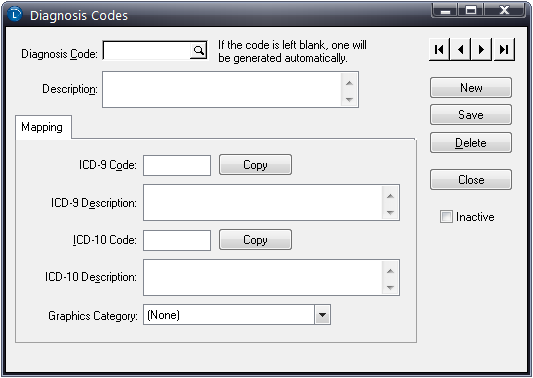 3. Starting October 1st, 2015, claims should be sent with ICD-10 diagnosis codes, so the ICD-9 fields are not required, but it is recommended, if possible, to complete all ICD-9 and ICD-10 fields in a Diagnosis Code.
4.  Enter the ICD-10 Code and ICD-10 Description, and if possible, also enter the ICD-9 Code and ICD-9 Description.  You can use the Copy buttons to copy info from the above fields.
5. Optionally, you can assign the Diagnosis Code to a Graphics Category (for reporting purposes, which will be covered in a later session).
6. Click Save when finished.
7.  While on the Diagnosis Codes window, you can click the magnifying glass icon to call up the Find Diagnosis window.  In this window, you can Search by any of the code or description fields, and choose whether the Filter Type is "Includes", "Begins With" or "Ends With".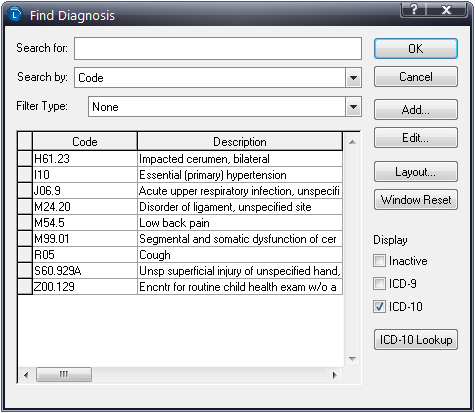 8. You can also Add… new codes, Edit… existing codes, change the Find Diagnosis grid Layout…, or reset to default by clicking the Window Reset button.
9.  If you cannot find a code that has been entered it may have been marked Inactive, in which case you can place a check mark in the Inactive box to see those codes.  If a code was started, but no ICD-9 or ICD-10 value was entered, you may need to uncheck both ICD-9 and ICD-10 display options to find it.

10.  You can also search for and add new codes using the ICD-10 Lookup button.  The following window will appear.  You can Search by code, description, or key words. Use the check-boxes to refine the search results, and select a code from the right-pane.  Selecting a code and clicking OK will add the code to your database.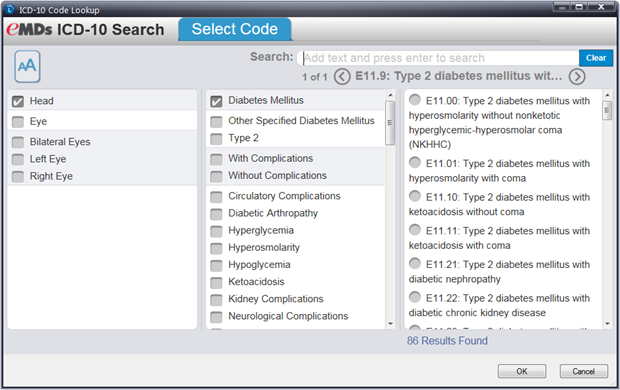 11.  To convert existing ICD-9 codes to ICD-10 codes, on the menu select Tools, then ICD-10 Tools, then Create ICD-10 Mappings.


12.  A new window with 3 tabs will appear.

13.  Some ICD-9 codes have a direct translation to one ICD-10 code, you can convert these codes on the 1:1 Mappings tab.

13A. Place a check-mark under the New Code column, for any codes that you want to generate an ICD-10 code for, or click the Select / De-Select All button to choose all codes, then click Create Selected Codes.
14.  For ICD-9 codes that have multiple related ICD-10 codes, use the Other Mappings tab.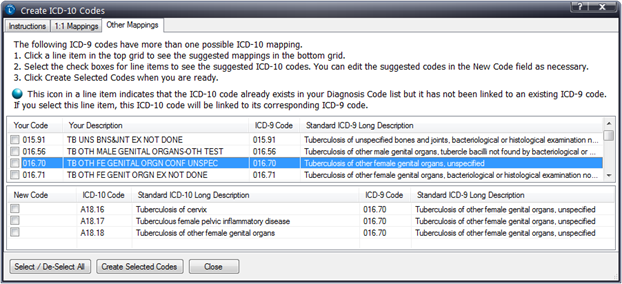 14A. In this tab, placing a check-mark next to a code under the Your Code column, will display and select the related ICD-10 codes in the lower portion of the window. You can choose to de-select any of the related codes if you do not want all of them. Note; The Select / De-Select All button on this tab only works for the one ICD-9 Code highlighted above. Make selections, then click Create Selected Codes when ready. Close the window when finished.