The Lytec Mobile app allows your providers to access key functions and patient data in their Lytec practice management system using their phone or tablet devices. Using Lytec Mobile, you can manage appointments, look up patient information, review patient visits, submit charges, and perform other vital tasks from anywhere at anytime.
The templates that Lytec Mobile uses (Intake forms, Medical History forms, and Superbills) are now ordered differently where they are stored on the server. Previously, they were ordered first by the template type and, second, by the practice name. Now, they are ordered first by the practice name, and then by the template type.

Updates Include:

The ability to pull the permanent diagnosis and display on the patient preview card.
New functionality that enables you to edit or delete an existing single appointment directly in the app.
Views for additional insurance information on the patient card, including policy information.
The addition of a middle initial to your patient names for easier searching and sorting.
Facility codes for more accurate facility selection.
Updated user-defined location for practice forms
You can now specify the default location for your Lytec Mobile forms/templates. However, if you change the path on the Mobile Configuration screen, the existing templates will NOT be moved automatically. You must move them manually.

Reminder: Edits to your Medical History Template are saved when you click OK on the Medical History Questionnaire; so if you edit the Medical History before you change the path, you will need to move the folder.

New field
There is a new field on the Mobile Configuration screen in Lytec (Admin menu, click Interface Configuration > Mobile Configuration): Template Path. This read-only field shows you the current path to the mobile templates/forms. The default is the location C:\ProgramData\eMDs MSLConnectivity Service\practice name.

This field is for display and you cannot access it.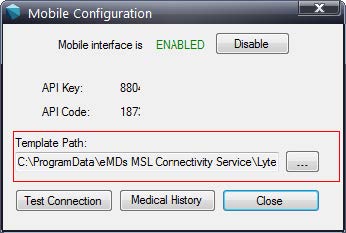 Click OK to save the changes.